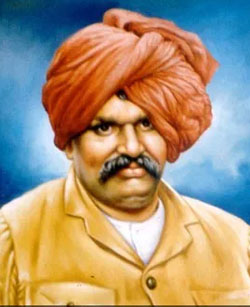 This Section is imparting the teaching instruction in the subject of Plant Pathology and Agricultural Microbiology included in the B.Sc. (Hons.) Agriculture and M.Sc in Agricultural Microbiology Degree programme and imparted training regarding Integrated Disease Management to the staff, engaged in the extension education programme of Zilla Parishad and Agriculture Department etc.
At present different seven courses with total 26 credits and six courses with 20 credits are offered in the pattern of B.Sc. (Hons.) Agriculture and M.Sc Degree programme respectively. All academic work viz., teaching, examination, supervision, evaluation of theory answer books acting as external examiner for semester end practical examination etc. has been attended by staff as per the time table and schedule given.
The major courses taught to UG and PG student are
Introductory Microbiology

Fundamentals of Plant Pathology

Principles of Integrated Disease Management

Biofertilizers, biocontrol agents and biopesticides

Diseases of Field and Horticultural Crops and their Management – I

Diseases of Field and Horticultural Crops and their Management-II

Mushroom Cultivation Technologies
Principles of Microbiology

Microbial physiology and metabolism

Microbial Genetics

Soil Microbiology

Microbial Biotechnology

Food Microbiology
Knowledge of proven and effective plant protection measures against different diseases of crop plants has been extended to the farmers, Zilla Parishad and Agril. Department staff members.

Plant disease samples received from different agencies and the farmers were examined in this section and suitable control measures were suggested.

The staff of this section visited the farmer's field s and discussed the disease problem and guided them for management of diseases.

Information regarding Mushroom Cultivation was given to needy farmers.

This section has started Biofertilizer Production Center in the year 2006 & different biofertilizers are multiplied and sold to the needy farmers. Shortly the production of Potash mobilizer will also be started.
Biofertilizer Production Unit
Increasing use of chemical pesticides for management of soil-borne plant pathogens had caused pollution of soil, surface and ground water besides affecting the crop produce and ecosystem .There is considerable public pressure and pressure from environmental scientists to decrease emphasis on chemical control and use biological methods for controlling plant pests and diseases. Pesticides are necessary at present in India but are not long-term solution to crop health. Besides, their non-target effects and hazardous nature petroleum based pesticides will become more expensive and a poor country like India just cannot afford it and moreover most of them are losing their effectiveness because of development of resistant strains. In this context, the increased emphasis on recourse to biological control of plant diseases is fully justified. Therefore, plant pathologists around the globe are now experimenting to control plant diseases by innovative approaches with limited use of chemicals.It is now well established that certain bio-agents have tremendous potential and can be exploited successfully in modern agriculture for management of plant diseases. Recently, several commercial products of Trichoderma like Antagon, Biocure-E, Bioderma, Dermapack, Trichofit, and Trichosan in India, which reveal that the bioagents are becoming popular. Literature review on Trichoderma and Gliocladium clearly indicated that efficacy of these bioagents in controlling plant diseases improved when used in conjunction with sub-lethal dose of chemicals.
Bio-agents in conjunction with small amount of fungicides may compete well with chemical pesticides in controlling plant diseases.
Bio-fertilizers are the best supplements to boost the crop production, is well established. They increase the fertility status of soil by converting the element in the forms that can be best utilized by crops. Worldwide, the application of bio-fertilizer to different crops is a regular practice hence it is proposed to strengthen the existing center into large scale production unit with facilities for training to the undergraduate and post graduate students. Recently, the bio-fertilizer production technology has attracted much attention of the small and large producers because of its simple and cost effective nature.
The Plant Pathology Section has started "Biofertilizer Production Unit" in
January 2007 with following objectives.
Objectives
Mass multiplication of different biofertilizers viz. Rhizobium, Azospirillium , Azotobactor ,Acetobactor and Phosphate solublizing bacteria ,biocontrol agent Trichoderma and Decomposting culture.
The following biofertilizers and bio-agents were sold to the farmers (Since establishment to 2022)
Biofertilizers Sale 2006 to 2022
| Sr. No. | Year | Amount (Rs.) |
| --- | --- | --- |
| 1. | 2006-2007 | 1,11955/- |
| 2. | 2007-2008 | 8,71915/- |
| 3. | 2008-2009 | 2,15950/- |
| 4. | 2009-2010 | 3,89170/- |
| 5. | 2010-2011 | 2,42166/- |
| 6. | 2011-2012 | 4,17375/- |
| 7. | 2012-2013 | 4,53892/- |
| 8. | 2013-2014 | 5,17467/- |
| 9. | 2014-2015 | 4, 13142/- |
| 10. | 2015-2016 | 6,78440/- |
| 11. | 2016-2017 | 6,59315 /- |
| 12. | 2017-2018 | 7,98545 – |
| 13. | 2018-2019 | 8,00905/- |
| 14. | 2019-2020 | 11,62585/- |
| 15. | 2020- 2021 | 7,92209/- |
| 16 | 2021-March 2022 | 9,10586 |
| | Total Sale | 86,50894/- |
ELP Module :  Offered to VII and VIII Semester student.
SRP ELP-407 : Biofertilizer Production Technology
| | | | |
| --- | --- | --- | --- |
| Sr. No. | Name of post | Sectioned post | Filled post |
| 1. | Professor | 01 | 00 |
| 2. | Associate  Professor | 01 | 00 |
| 3. | Assistant Professor | 04 | 02 |
| 4. | Agril. Assistant | 03 | 01 |
| 5. | Lab Attendant | 02 | 01 |
| 6. | Peon | 01 | 00 |
| | Total Posts | 12 | 04 |